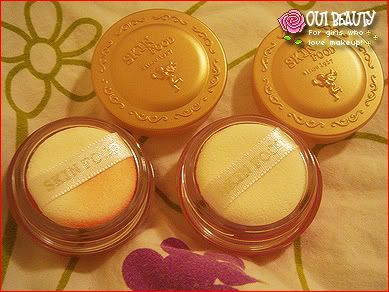 Here we go with another blush! As much as I want to try
SKINFOOD
masks, I always seem to try their other stuff first like their hand cream and now blush. This is their very mispelled blush called the
Rose Check Chock
blush. It seems to me like their either trying to spell it correctly(having such a hard time) or it's a sound of some sort. Maybe of what roses make when we're not looking. It is a very cute cream blush that comes in a very small container that can almost be mistakened as you're contact lenses case. It comes with a mini poof sponge applicator for some cute application. I don't like to use cream/liquid stuff on my cheeks but it is definitely an interesting way to control the circular puff movements to bring out the colour.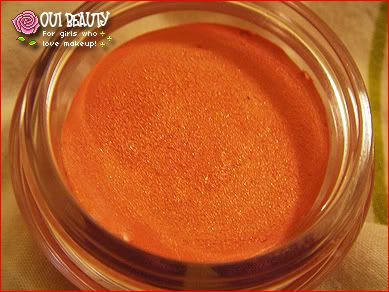 This is
02
which is described as a Peach Orange. The colour in the pot looks orange/peachish but it's more of light orange with some kind of chrome like shimmer to it. It gives a nice healthy glow to my skin if put on correctly. This one is not as pigmented as the other one I got but it does have the shimmer. Very appropriate for summer time tanning. There is a faint rose scent to the blush as it has rosehip seed oil. It doesn't seem bother me too much.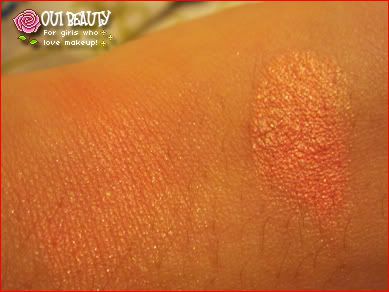 The other one I got was
03
which is a Rose Orange. I only got this colour because the orange looked real nice in the pictures. It seemed pretty vibrant and somehow I thought this blush would be sheer but it's not. A little goes a very long way. It's lasting ability is alright. I think as long as you don't touch your face or sweat too much, it'll be alright. This particular colour is one of those ones that are too orangey for my skintone. It's just not flattering. It makes me feel like those 80s makeup, like back in the day when blush was just as bold as eyeshadow. Totally not me at all. Overall, I'm pretty so-so on these blushes. Don't think I would recommend to anyone at all.
Pros:
Rosehip seed oil, cream blush, puff applicator, cute and convenient size, pigmented, shimmer
Cons:
Limited colour options(only 3), alright price for size