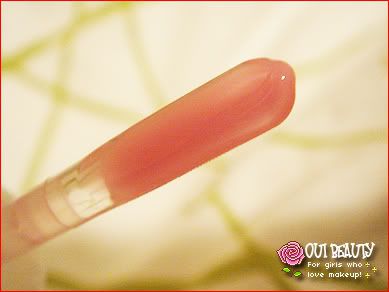 Love Clover Pop Chu Gloss
has been out and around for quite awhile now and I was very interested in trying it out. However, I read
some
reviews
about it and it didn't sound so great. In the end, I gave in and decided to try it out despite what others have said. It was just too cute to resist! The
Pop Chu Gloss
is a lipgloss that is shaped as a lollipop which comes in three different flavors/colours. There is Strawberry Pink, Vanilla Beige and Champagne Clear. I only got one of them(Strawberry Pink) even though they all seem so delicious! The design of the gloss itself is a plastic spatula with a round sphere bottom which is quite similar to a nail polish bottle. Very cute indeed!
The bare lips!
First of all, I really love the design of the actual lip gloss! It's just so cute! However, I really don't like spatula sticks because I prefer the traditional sponge/brush for precise application. The colour for the
Strawberry Pink
is pretty non-existent and I can probably only assume for the other two. The scent is kind of a gross but bearable. It smells of this real fake strawberry scent which you would only find in hair styling products. To be honest, for the price of this
Pop Chu
I rather I get the
MAJOLICA MAJORCA Honey Glosses
for the cute tubes and more colour variety because they are equally the same in gloss thickness and shine so why not pay a little less for one with more variety? I think that this can be safely skipped unless you must try it.
Pros:
Cute lollipop design, cute colour, cheap
Cons:
Limited colour choice, smells funky, spatula design