Ever wake up one morning and tell yourself that you have to have a certain product? I did! I remember seeing
INTEGRATE Pencil Eyes
for a long time and didn't really think much about it until lately when I discovered Covergirl has something similar. I then thought to myself "Wow! How handy and cool is that?" The concept of an eyeshadow pencil is nothing new but it seems like it may make a comeback! I jumped to get this one right away and couldn't decide between colours because there were just too many!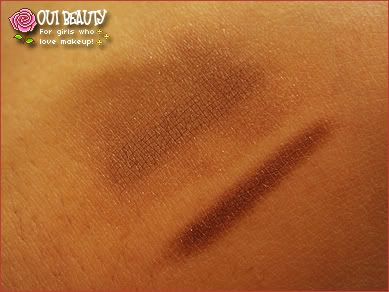 I finally made a choice on one(yes! only one!) based on the fact that I had to go to work and it would come in real handy for those days I wake up late or I'm in a rush. Plus it's easy to touch up at the office. I went for the darker brown that they carry which is
BR691.
I really had a hard choice between the two because they were both equally pretty. The only reason why this one ruled over was because I believed it could be seen more on my skintone and could possibly, if mastered correctly, used as a kohl liner. The
BR691
is of a dirty dark dirt brown but when used as eyeshadow it turns into a chocolate brown with slight bit shimmer. The pencil itself is incredibly easy to use: line close to the lash line like liner and use ring finger to smudge upwards. Simple! The colour that I thought would show up on my eyes didn't really. It's there but you have to be awfully close to me to see it. The lasting factor is real bad too. I'm so disappointed that it would turn out like this! I suppose I should start using it with a coordinating powder eyeshadow. Bad one for INTEGRATE.
Pros:
No brain instructions, beautiful colour selection, subtle shimmer
Cons:
Not very pigmented, not long-lasting